Kysor Warren EPTA US To Present at ATMOSphere America Summit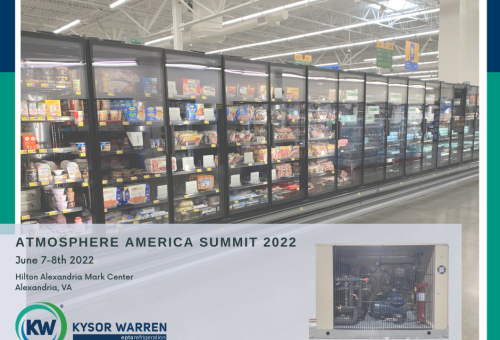 Kysor Warren EPTA US is excited to be among the presenters at the ATMOSphere America Summit in Washington. D.C. on June 7-8, 2022. The event will be held in person. Kysor Warren EPTA US will co-present on the following topics:
Market Trends Panel: Market Trends and Opportunities

(multiple industry speakers) – June 7th, 11:00 am – 12:00 pm EST. This discussion will center on market trends, during which the speakers will talk about overall market trends on natural refrigeration and what they see on the currently and provide up to date input. Thomas Wright, Country Sales Manager - Sales and Customer Service, will participate on the panel.
Case Study: Transcritical CO2 Condensing Units for Commercial Refrigeration

– June 8th, 11:30 am – 12:30 pm EST. This co-presented case study will focus on solutions for CO2 condensing racks and condensing units. The study will also discuss how the newest controller from Carel paired with Kysor Warren's newest CO2 refrigeration product provides efficiency and flexibility. Ignacio Chaparro, Sustainability & New Technologies Manager, will participate on the case study.
Kysor Warren EPTA US is a Gold Sponsor for the summit. To register, visit https://www.eventbrite.co.uk/e/atmosphere-america-summit-2022-registration-149106805469.
About Kysor Warren EPTA US
Kysor Warren EPTA US is a leading manufacturer of refrigerated display cases and refrigeration systems, partnering with customers to bring complete commercial refrigeration solutions to supermarkets, grocers, and other retailers across North America. Founded in 1882, Kysor Warren EPTA US has provided refrigeration solutions to food retailers for over 140 years. Kysor Warren EPTA US provides refrigeration solutions known for their durability, efficiency, and quality in design. Kysor Warren EPTA US has firsthand experience and knowledge of refrigeration system operations that are unparalleled. Kysor Warren is an EPTA Refrigeration company headquartered in Columbus, Georgia.
EPTA is a multinational industrial group present in five continents, working to meet the needs of all segments of commercial refrigeration, interpreting the cultures of our consumers from the most diverse countries and giving life to sustainable cold technologies that, with an eye to the future, create value for customers across the globe.
Website: https://www.kysorwarren.com/en