MARCO NOCIVELLI RECEIVES THE INSIGNIA OF ORDINE AL MERITO DEL LAVORO (ORDER OF THE MERIT FOR LABOUR) FROM THE PRESIDENT OF THE ITALIAN REPUBLIC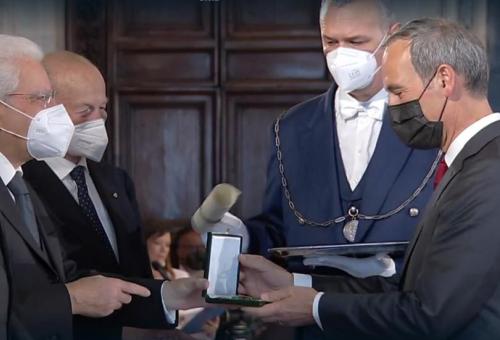 Marco Nocivelli, President and CEO of Epta receives the honour of Ordine "Al Merito del Lavoro" (Order of the Merit for Labour) during the ceremony held today at the Quirinale Palace in the presence of the President of the Italian Republic, Sergio Mattarella, the Italian Minister for Economic Development Giancarlo Giorgetti and the President of the National Federation of Knights of Labour Maurizio Sella.
Marco Nocivelli is among the 50 businessmen appointed Cavalieri del Lavoro (Knights of Labour) by the Italian Head of State in 2020 and 2021. These are leading figures who have distinguished themselves in the sectors of agriculture, industry, trade, craftsmanship and credit and insurance activities. The requirements necessary to receive the award are to have operated in your sector continuously for at least twenty years in a leadership role and to have significantly contributed, through the business activity, to social and economic development.
Marco Nocivelli President and CEO of Epta declares, "I am honoured to be part of the Cavalieri del Lavoro (Knights of Labour). Businessmen who are called to be a positive model, to generate shared value, create work, encourage economic growth, innovation and ecological transition. I dedicate this title to my wife and family, to all the people of the Epta Group and of Federazione Anima who have supported me in all these years, contributing to my personal and professional growth."